Sidecar History
In the following article, Britisher Ken Craven discusses the thrills of sidecar riding and the amazing capability of the three-wheeled machine to negotiate almost any terrain. The author has long been a two and three-wheeler enthusiast and his name in England is synonymous with serious touring. He is president of the Federation of Sidecar Clubs in the United Kingdom. Buy the Article Here.

Photos shown: Author Ken Craven drives, coached through water crossings by sidecar expert Bill Peacock.
The uses for sidecars presented in this article will doubtless seem unusual or at least be unfamiliar to American motorcyclists for the most part. In the first item, Graham Forsdyke pays tribute to a man and his beloved machine. The author then goes on to give us a brief glimpse of the speedway outfit. Finally, he presents some insight into the sport of sidecar trials. Forsdyke, an enthusiastic and active sidecar buff, clearly illustrates that there is virtually no motorcycle sport in which sidecars are not used with the same serious approach afforded their solo counterparts. Buy the Article Here.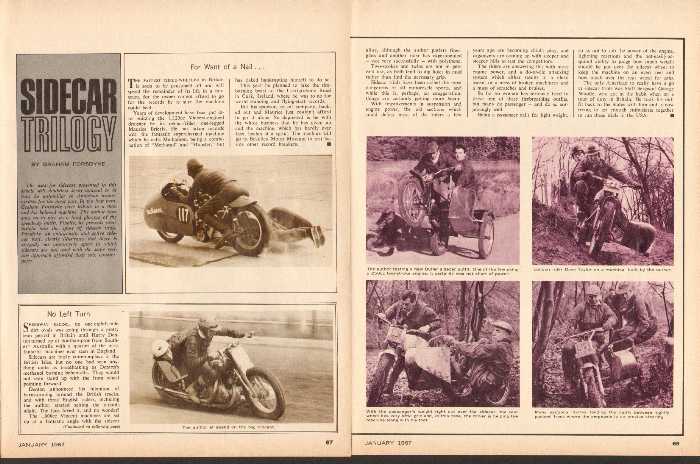 Photos included in the article:
1.The author at speed on the big Vincent.
2. The passenger has his work cut out avoiding the wheel which takes up most of the room in the sidecar
3. Only with the front wheel on full left-hand lock would the Vincent machines stand upright.
4. The author testing a new Butler sidecar outfit. One of the few using a 250cc two-stroke engine, it certainly was not short of power.
5. London rider Dave Taylor on a machine built by the author.
6. With the passenger's weight right out over the sidecar, the rear wheel has very little grip and, in this case, the driver is helping the machine along with his foot.
7. Many sections involve feeding the outfit between tightly packed trees where the emphasis is on precise steering.
This issue of Cycle World has three sidecar features inside:
1. All About Sidecar Racing
2. Sidecar Trilogy
3. Incredible Chariots
On the cover: Barron Storey's impression of the Florian Camathias / Gilera Sidecar Outfit. Buy the Magazine Here.
The most spectacular form of motorcycle racing has to be seen to be believed. There are many variations on the theme of road racing and the most spectacular of all, and one that has yet to be introduced to America, is sidecar racing. This branch of the sport enjoys tremendous popularity among the European racing spectators and is so well established that, as in car racing and solo motorcycle racing, it warrants a World Championship of its own. Buy the Article Here.

Photos included in article:
1. World Champion Max Deubel and passenger Emil Horner.
2. Bosch fuel injection system on a BMW.
3. A "kneeler." The very low frame and almost prone position of the rider of this BSA-engined outfit are clearly shown.
4. Sidecar crews are the only people in racing who regularly pray for rain.
5. "Pip" Harris pursued by Florian Camathias executes a perfect three wheel drift at well over 100 mph on Silverstone circuit.
6. Florian Camathias riding an early type BMW with the fuel tank in the normal position.
7. As in most European cycle racing, push starts are the normal procedure. Two BMW outfits leave the line.
8. Sidecars in action.
The History of International Sidecar Road Racing. Sidecar racing, perhaps more than any other facet of motorcycle sport, is typically European. Born way back in the 1920's it was not until after World War II that sidecar racing became an officially established part of the international road racing scene. The first significant mention of sidecar road racing occurs in the history books for 1923, when the famous Isle of Man TT hosted a class for 600cc three-wheelers. This first event was dominated by the colorful Freddy Dixon, who used an opposed-twin Douglas with a banking sidecar to score a popular win. Buy the Article Here.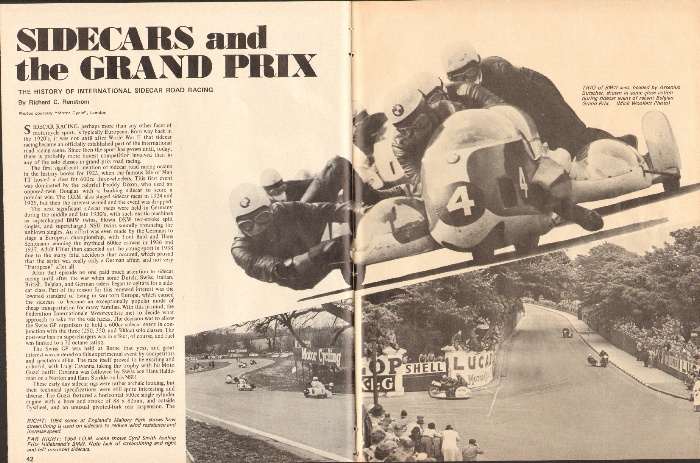 Photos included in the article:
1. 1964 scene at England's Mallory Park shows how streamlining is used on sidecars to reduce wind resistance and increase speed.
2. 1954 Isle of Man scene shows Cyril Smith leading Fritz Hillebrand's BMW. Note lack of streamling and right and left mounted sidecars.
3. Trio of BMW aces, headed by Arsenius Butscher, shown in some close action during sidecar event of recent Belgian Grand Prix.
4. Early sidecar builders favored big 600cc singles. This old NSU featured single overhead cam, four-speed gearbox, and gobs of torque. German ace Hans Starkle won many pre-war races in the 1947-1950 era on one of these German thumpers.
5. Fabulous four-cylinder Gilera engine that Ercole Frigerio and Albino Milani used for many victories. The DOHC four churned out over 70 hp in 1957.
6. Eric Oliver, one of the greatest sidecar drivers, on his 1949 Norton. Big 600cc OHC single featured a girder front fork, rigid frame, and a rather cobby look. Notice that the passenger is really with it!
7. 1954 BMW Rennsport has powered sidecar rigs to 14 consecutive world titles. Standard frame is discarded for current sidecars and special low "kneeler" frames are built. Engine turns to 8500 revs.
7. Chris Vincent scored a stunning I.O.M. TT victory over the factory BMWs in 1962 with his BSA powered special. Note the kneeling position to lower the height. The BSA twin was specially prepared by the factory for Vincent to use.
Agostini repeats 1968 feat by again winning both 350 & 500cc events on MV Agustas. Buy the Article Here.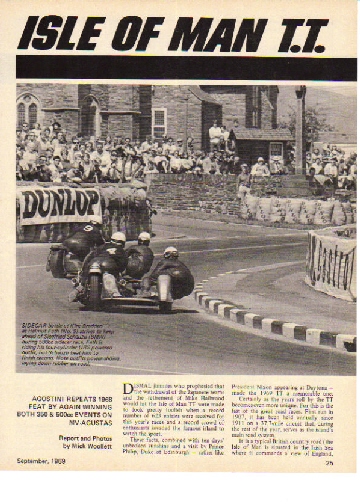 Sidecar photos included in the article:
1. Sidecar battle at Kirk Braddan as Helmut Fath (No.9) strives to keep ahead of Siegfried Schauzu (BMW) during 500cc sidecar race. Fath is riding his four-cylinder URS powered outfit, but Schauzu beat him to finish second. Note outfits power-sliding, laying dow rubber on road.
2. First British crew in 500cc sidecar were Dick Hawes / John Mann on Seeley outfit.
3. Winners of 500cc sidecar class, Klaus Enders and passenger Rolf Englehardt (BMW) at Quarter Bridge.
...In an effort to diversify a bit, we thought it might be kind of interesting to show our readers some of the modern trends in motorcycle sidecar racing, and chassis design... Buy the Article Here.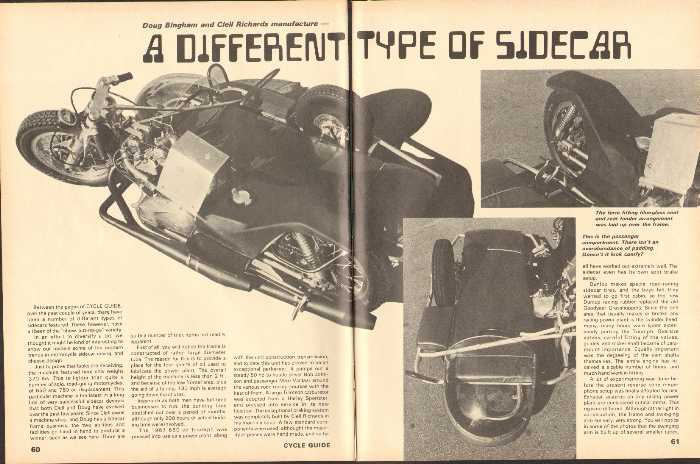 Photos included in the article:
1. The form fitting fiberglass seat and rear fender arrangement was laid up over the frame.
2. This is the passenger compartment. There isn't an overabundance of padding. Doesn't it look comfy?
3. Workmanship is excellent throughout. Care and attention to detail result in a lightweight machine that is quite strong.
4. Considerable development work was done in the area of the reverse cone exhaust system. Note the long reverse cones.
5. A reliable 55 horsepower is extracted from the 40 cubic inch Triumph engine.
6. Twin disc brake units are mounted on the front wheel with single units attached to the remaining two wheels. Standard Hydra-Glide front forks are shortened and lightened. Dunlop sidecar rubber plus alloy 16 inch wheels are also used.
7. Twin Go-Kart master cylinders operate the brake system. The tube attached to the megaphone is used to operate the carburetor pump.
8. The top triple clamp was handmade from aluminum sheet stock. Note the absence of a handbrake.
More of the same, this time manufactured by the Roplas Ltd., Company of Poona, Ind. The sidecar comes with a universal fitting, is easily adapted to a Vespa, Lambretta Scooter, etc. The price, if the rig is imported to this country, will be approximately $120.Buy the Article Here.
Cover Story: 1932 BSA W32-6 Sidecar - was an established transportation vehicle in England during the depression years. A sidecar added to the function in those days since it could carry more passengers, groceries, etc. Our cover bike is a wonderfully restored and running example of the 1932 BSA W32-6 complete with sidecar and basket. Buy the Magazine Here.
...In Britain, we are in the throes of another "is it a sidecar" controversy. The "outfit" in question is a BMC Mini-Cooper "S" powered three-wheeler....designer and driver (rider?) Owen Greenwood, renowned builder of Triumph engined specials... Buy the Article Here.
Continuing a tradition of manufacturing the finest genuine sidevogn in the world. Buy the Vintage Ad Here.
Specifications: Total steel construction; 19 in. 36 spoke alloy wheel; Mechanical brake; 2.8 cubic feet of lockable trunk space; Windshield; Complete lighting - brake, running and turnsignal; Complete attachment arms and fittings; Full seat on coil springs; Interior upholstery; Over 300 pound capacity; Oven-baked colors (black or prime)
$942.50 suggested retail price. J. Remillard A/S Bender-Florin Sidevognsfabrik
Chris Vincent, Britain's leading sidecar racer, is building a sensational three-wheeler for international racing...first public appearance will be at Snetterton, Norfolk, for an international meeting...Buy the Article Here.
The Sidecar. Doubles motorcycling fun. Ideal for friend and family. You'll like its trim lines, harmonizing finishes and rugged and comfortable construction. Buy the 2-Page Ad Here.
Where do Motorcycle lovers all over the world get their Christmas presents? Santa Claus delivers them on a BMW R-69 with a sidecar as shown on the cover of this vintage 1959 Motorcyclist Magazine Buy the Magazine Here.
Designed with superior knee action springing for a smooth, easy ride, and ruggedly built to give many years of service, the handsome streamlined Steib Sidecars are a real transportation value. The three pleasure-passenger models, and the utility models for business use, all can be attached quickly and easily to any motorcycle. Buy the Ad Here.
...the big change at the Isle for this year's events was the opening of the complete 37 3/4 mile Mountain lap to the lightweight and sidecar TT's. Buy the Article Here.
Sidecar Photo: Helmut Fath and passenger Wohlgemuth, BMW sidecar winners. They are rounding Ramsey on the mountain circuit.
The banking sidecar returns and this time Roger Gamaunt really has it - a 95 pounder that handles with solo ease. Buy the Article Here.
Photos included in the article:
1. The day's work behind, the hack tested and proven, Roger "takes five." Back in his garage it only took two minutes to stow the sidecar away. Future plans include radio, manifold heater and bubble canopy.
2. Haley's Comet had nothing on this fireball. Roaring past, the trim lines of this novel sidecar can be clearly seen. Although moving at a high speed the operator may relax to an effortless solo type ride.
3. The bike takes the high road, the hack takes to low road, and all your teeth still stay in place showing the ride in this Cadillac of new sidecars.
4. Demonstrating 75 per cent of the banking angle, the Ariel Square Four sits overlooking the San Fernando Valley. Inside the brake drum, can be seen the independent shock strut for the third wheel. This shock strut adjustable to an empty hack or a full 250 pound weight.
Trike Road Test - Sidcar Owners Survey - Buy the Magazine Here.
English sidecar addict puts together a way-out three-wheeler powered by a four-cylinder Ford engine. Buy the Article Here.
Photos included in the article:
1. Levy's contraption is half motorcycle, half racing car. He built it to compete against another way-out machine based on Austin Mini.
2. A 29-year old draftsman at the Ford plant in Dagenham, England, Levy works on and races Ford-ified three-wheeler in his spare time.
3. Levy is never short of volunteers, mostly females, to ride sidecar. The co-rider shown here is 19 year old Jenny Berry, a secretary.
4. Unorfordox is pushed to the starting line by the willing hands of spectators. It weighs 740 pounds, has an overall height of 26 inches.
5. Top, the 1300cc Ford-Cosworth engine was completely reworked by owner. It features a set of dual carburetors. Above, frame is made of channel and tubular steel. Left, Jenny Berry is a little apprehensive before taking her very first ride on machine.
6.Levy is never shor of volunteers to co-drive Unorfordox, and he makes it a point to always use birds
7. Levy shows his new co-rider how to shift weight in turns. So far the machine has cost him $1680, exclusive of his own labor.
Article: Two Up at Speed - Sidecars Special Feature Buy the Magazine Here.
Cover: Sidehacks, those strange three-wheeled creations which awe spectators at tracks and courses throughout the United States and Europe, and the men who race them are examined this month... Cover shows California Brother sidecar team of Ken and Darrell Meter in action.
Contents: Special Feature: Two Up at Speed - sidecars often referred to as chairs, chariots and hacks, and the riders have historically been called crazy, but none of them seem to mind; Mini assault on Pikes Peak; Touring; Salinas Ramblers host Outstanding Run; more
More to come...